I've recently delved back into the world of sunscreen research. WHO KNEW that after all the years of wearing sunscreen I'd learn that it is full of chemicals and toxins that aren't good for babies?! Or adults for that matter. Better yet, most of the products on the shelves at the grocery store labeled "baby sunscreen" aren't actually non-toxic options. My husband and I are very fair-skinned (OK, slightly translucent). That, combined with a family history of skin cancer has given me a healthy respect for the sun. Needless to say, I've spent some time worrying about finding a non-toxic sunscreen that I could put on my baby.
This post probably contains affiliate links. That means if you buy something using one of my links I may receive a small commission – at no additional cost to you! How cool is that? It's kind of boring, but feel free to read my full disclosure if you want more info.
During the summer when baby gets a healthy dose of sun, you'll be using sunscreen a lot. Kids in daycare need to wear it into school and will have it reapplied in the afternoon. That's a lot of sunscreen. I have two that we like and use regularly, but they aren't the typical sunscreen brands I grew up with.
Additionally, with the need to put it on more liberally EVERY DAY I was hoping to find a spray option that would be super easy. More on that later, but first off — our non-toxic sunscreen saga… and how my 10 hours of research can save you some serious time.
How did you research non-toxic sunscreen for 10 hours?
Ok, hear me out. 10+ hours researching seems like a lot, but after looking through multiple sources, understanding (mostly) the chemicals and ingredients to avoid, and then sifting through Amazon reviews to find out what real parents had to say about the products, I feel justified in the time I spent. And I can't seem to stop, but hopefully aggregating all the information here will keep me from going back down this rat hole — at least until next summer.
First things first – don't use sunscreen until your baby is over six months of age. Depending on when you have your child you're likely going to need to use some type of sun protection before then. During our first summer, I asked my pediatrician what to do. Her advice was to use sunscreen if absolutely necessary but stick with sun protective clothing and shade when possible.
This wasn't a huge problem and I think we only used sunscreen a couple of times before six months, but that's probably because I was a hermit and afraid to leave the house with a crying baby. That said, I was SO worried about every little thing that touched her body at first. I obsessively googled baby sunscreen before I bought one, and learned a few key things to watch out for when buying a sunscreen for your little.
What to look for
First up – some ingredients are good, and some are not. And a lot of the "bad" ingredients were in every sunscreen in my cabinet. EVEN MANY "BABY" SUNSCREENS HAVE THESE INGREDIENTS. The best thing to do is to read the ingredient label before you purchase. It's the only way to make sure you aren't getting any of the sneaky toxic ingredients. Here is a quick graphic to keep in mind:
I found the Environmental Working Group (EWG) website when researching sunscreen and multi-purpose cleaners. After finding the site I might have become a little too obsessed with their ratings. I looked at every sunscreen on their Kids Sunscreen Guide and cross-referenced with Amazon reviews to make my final choice. After reading some bad reviews about sunscreen that was impossible to rub in, incredibly thick and greasy, or didn't work and kids got burned, I took a leap and both ordered ThinkBaby and ThinkSport.
They are both great. While little lady does turn a bit white, she smells good. I also definitely know which areas got sunscreen. At +$10 for 3 oz. it definitely isn't cheap, but it wasn't the most expensive option on the list either. Since we had our first baby in 2016, people seem to have gotten on board because now you can buy ThinkBaby sunscreen at Target.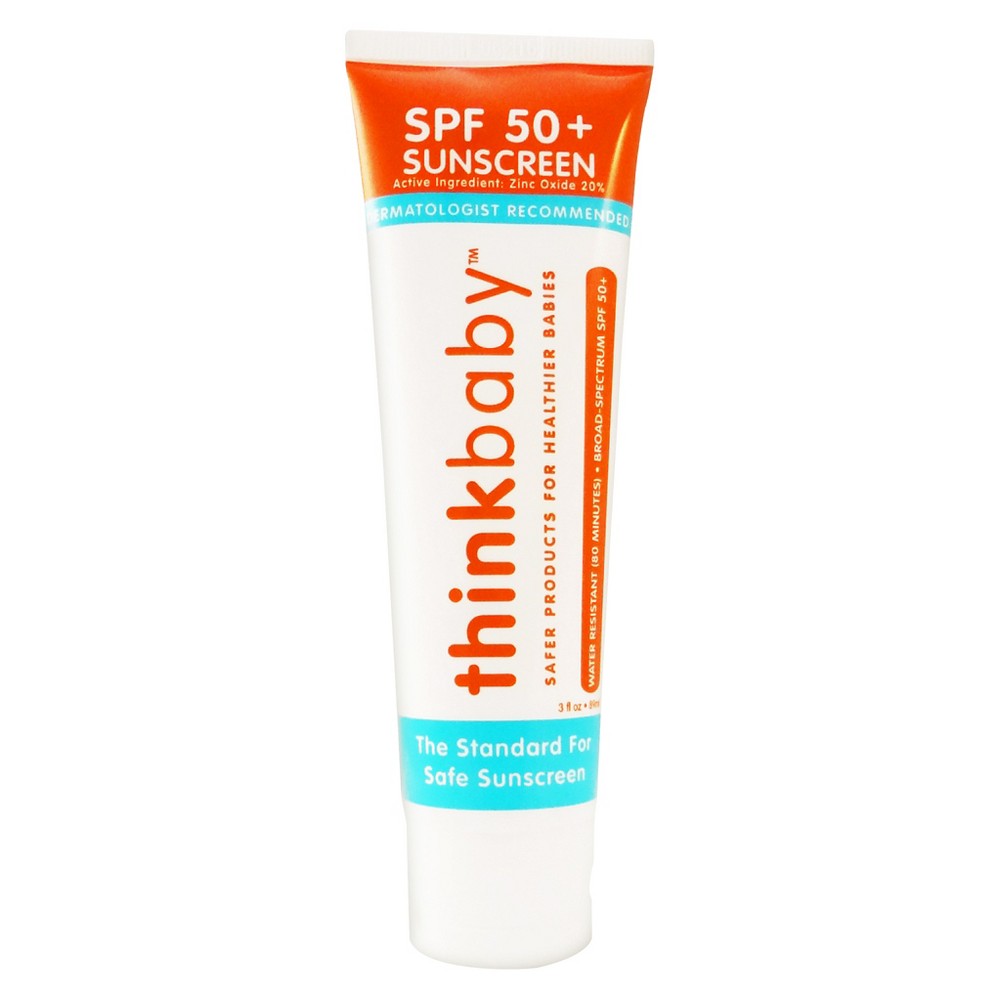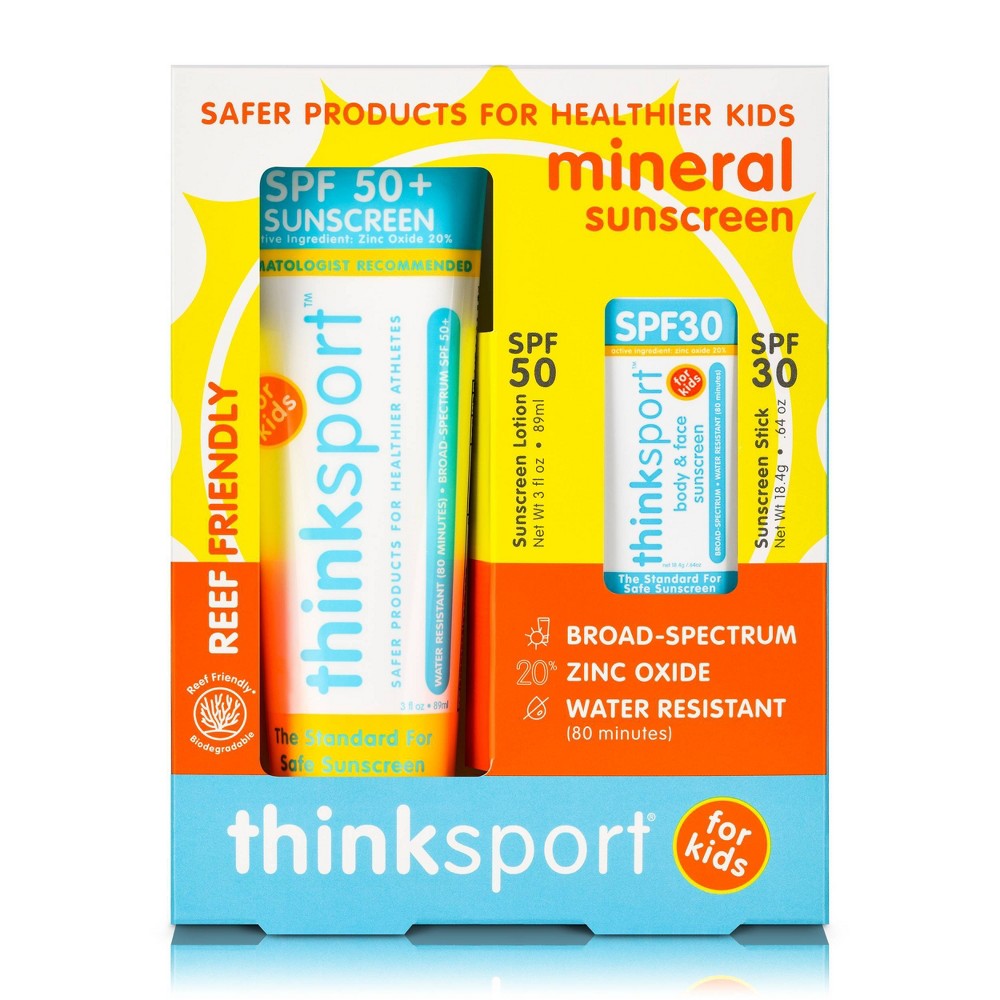 We've also tried Blue Lizzard sunscreen because of the good reviews on Amazon, the EWG rating, and the fact that it is slightly cheaper per ounce than Think Baby. Unfortunately, it isn't rated on Safemamma.com or Gimmethegoodstuff (see below for more information) but the ingredients looked ok to my admittedly uneducated eye.
They have both stick and lotion options. However, I should note that in a lot of the articles I read it said parents tend to underutilize sunscreen in stick and spray forms. If you're using a stick or spray, use liberally.
Why I'm still researching… will the struggle never end?
I'm very happy with both Think Baby and Blue Lizzard for general sunscreen use. However, now that we're using sunscreen more frequently I was hoping to find a spray option. I'm searching for one I don't have to rub in so much on a squirming baby.
I know, I should just be happy that I found a non-toxic sunscreen that protects her from burns. But I can't leave it alone, so back on google, I went. I then learned that you're really not supposed to spray kids with sunscreen. Fantastic. Apparently, the aerosol can get sunscreen in their lungs, and you might not get optimal coverage. Why do they sell this stuff if you're not supposed to use it?!
Anyhow… I haven't yet been able to find a spray non-toxic sunscreen that seems ideal. Many of the "natural" brand reviews say that they are too chunky to spray or that they don't work, neither of which I want to deal with. Now that I have two kids I'll probably break down and use a spray soon. I'll update the post if I find one we like.
Be vigilant when reading ingredients claiming to be non-toxic
You need to understand the source of the article you're reading before determining that the sunscreen is safe. I've read many "safe sunscreen" articles in my research that include products that score terribly on the EWG rating list. They even include chemicals deemed harmful. While I'm no expert on the subject, I did find a couple of really good sites with detailed information from ladies who know their stuff on ingredients and provided good context for what to avoid. A great resource is Gimmethegoodstuff. Check out her sunscreen guide linked blow.
Gimmethegoodstuff Sunscreen Products
Looking for other non-toxic baby products for your home? Check out our guide to non-toxic baby playmats – because your baby spends a LOT of time playing with her face down there!
What about sun protective clothing?
Since I've had such a love/hate relationship with sunscreen, I've also looked at sun-protective clothing. I try to be diligent about making sure little lady has a good UPF 50 hat and rash guard for sun exposure.
She was so tiny her first summer I had to buy an adjustable hat. Even the smallest sizes of other hats didn't fit. This one did the trick. It protected her for the times we were in the sun. This past summer I got this one because it had a longer bill in the back. This is super helpful to protect the back of her neck. I got white because it goes with everything, and we only had to get one. It is also adjustable to make it tighter around the head if needed.
However, my favorite purchase so far has to be her ruffle butts rashguard bathing suit. A rashguard protects her arms from getting burned, and it means less sunscreen. The hat covers her neck, so we really only worry about her legs and feet!
Although I'm confident with our non-toxic sunscreen choices, I feel better knowing that I have an extra insurance policy with sun protective clothing. If only ruffle butts made this rash guard with full pants I'd be in business.
Sunscreen to avoid
Finally, I'd be remiss if I didn't list a few sunscreens that I THOUGHT were good but based on their EWG ratings and Gimmethegoodstuff, aren't actually great.
Here's a list of some of the common baby sunscreens you can find at the local grocery store, linked to their EWG pages. I'd avoid these if you have any other options.
Coppertone Water Babies (Pure & Simple) – avoid all Coppertone Water Babies, but I linked to the Pure & Simple version because it seems sneaky that this is one of the worst-ranked options from Coppertone.
La Roche Posay – "Gentle Sunscreen"
Neutrogena – this one says it's a "sensitive skin mineral" option so definitely tricky and gets the WORST EWG rating of 10.
Banana Boat Max Kid's Sunscreen Spray
CVS and Walgreens generic sunscreens also have scores of "10" (the worst) EWG ratings.
I hope this helps as you plan your summer outside. Let me know if you have any other tips to beat the burn!
The Mamma's List for Sun Protection: