Toddler Bedroom Makeover: Frozen Toddler Room Ideas
If you're reading this post you're probably looking to do an upgrade on your toddler's bedroom. For us, this happened when we got pregnant with our second daughter. We wanted to use the nursery for the new baby since our daughter was already in a converted toddler bed. We had this grand plan to make a new toddler room for our oldest daughter and surprise her as one of her Hanukkah presents. If you're looking for some frozen toddler room ideas and inspiration, you're in the right place. 

I'm showing the big reveal from what was once a guest room and office, transformed into a toddler bedroom palace. Ok – palace might be an overstatement because we aren't Kardashians, but I think we did a pretty good job making her new room a fun place to play. 

This post probably contains affiliate links. That means if you buy something using one of my links I may receive a small commission – at no additional cost to you! How cool is that? It's kind of boring, but feel free to read my full disclosure if you want more info
Guest Bedroom and Office into Toddler Bedroom

First things first – let's look at some "before" pictures, shall we? These images don't show the desk that my husband and I moved into our room, but it was in one of the corners of the guest bedroom before we started making changes. 
Also – I know my photos aren't Pinterest worthy and photography on my phone has been a little challenging. That said, you'll get the idea of the space from the before and after shots I'm sharing below.

The original bedroom actually looks incredibly similar to the bedroom I had growing up since the furniture was mine, and the framed horse photos were on my wall for over 10 years. 

I liked it and it served us well as a guest bedroom, but when we decided to give up the guest room and put our daughter in our third bedroom it became a little old looking. We really wanted something toddler-friendly so we started looking for inspiration. We finally settled on looking up frozen toddler room ideas on Pinterest.

Frozen Toddler Room Ideas & Transformation

Since we really wanted to surprise her, we decided to really try to transform the space and went with a Frozen theme. Luckily for us, Frozen II just came out and there is merchandise EVERYWHERE. I swear, if I wanted to I could buy Elsa q-tips. We didn't go that far, but we were able to do a pretty heavy Frozen theme, down to the hand towels in her bathroom. 

The Big Room Reveal

Before I dive into everything we got, here is the big reveal of the new room once it was put together. Everything we bought was almost exclusively from Target or Amazon, so while not necessarily cheap, you can definitely replicate the space. These frozen toddler room ideas aren't exactly unique to our little girl's room.


Toddler Toy Storage

Her toy bin in the nursery was overflowing with blankets and toys for a while, so we decided to go with cube storage. We thought this would buy some additional space in the new room. We got the cube storage and bins on sale at Target.

They were running a crazy buy 2 get 1 free Frozen item promo at Target for most of the holidays, so we got the three bins for ~$12. I stacked coupons to get the storage unit for about $45. We also got the weathered grey storage unit for our living room and it looks awesome too.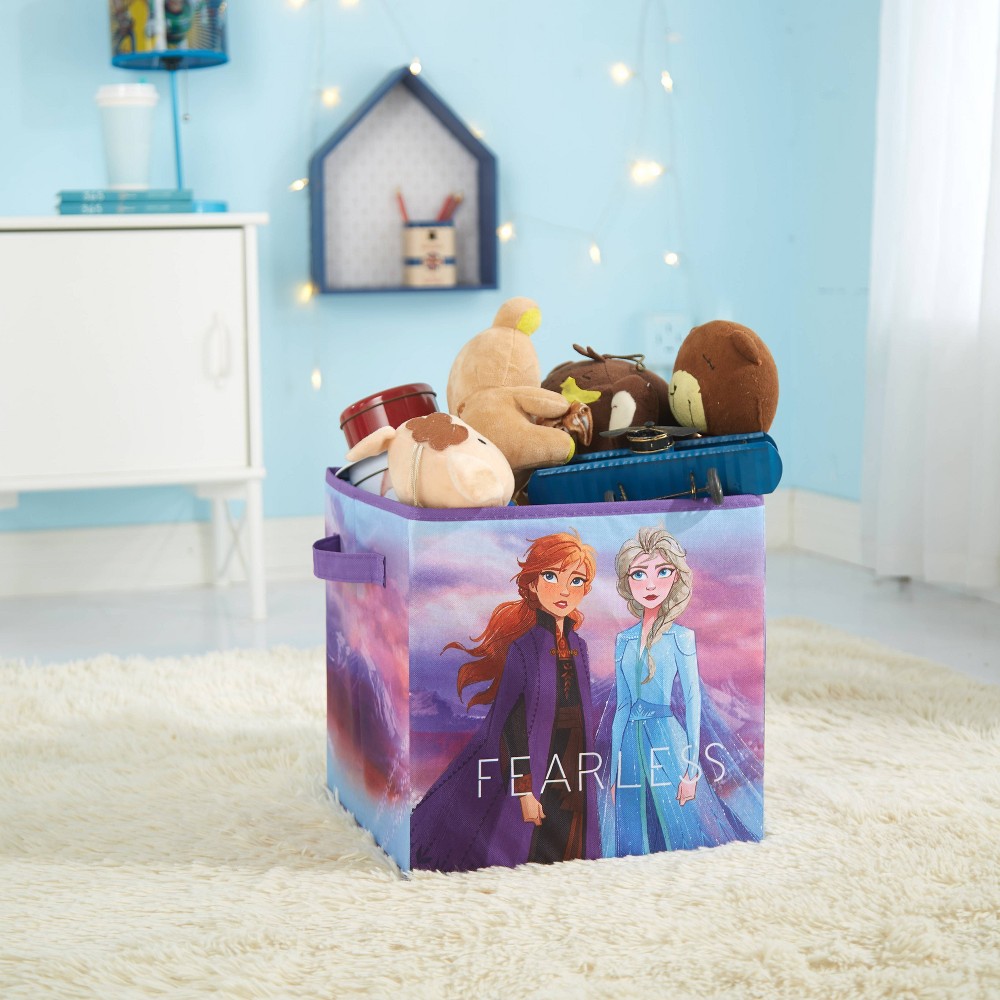 We put these puppies in cube storage from Threshold, and managed to store a ton of books and toys in a pretty small wall space that used to hold a TV. Not bad, right?

Here's the link to the actual storage unit. It holds the 13″ bins. They have a smaller version (fits 11″ bins) as well as an eight cube option that we put in our living room.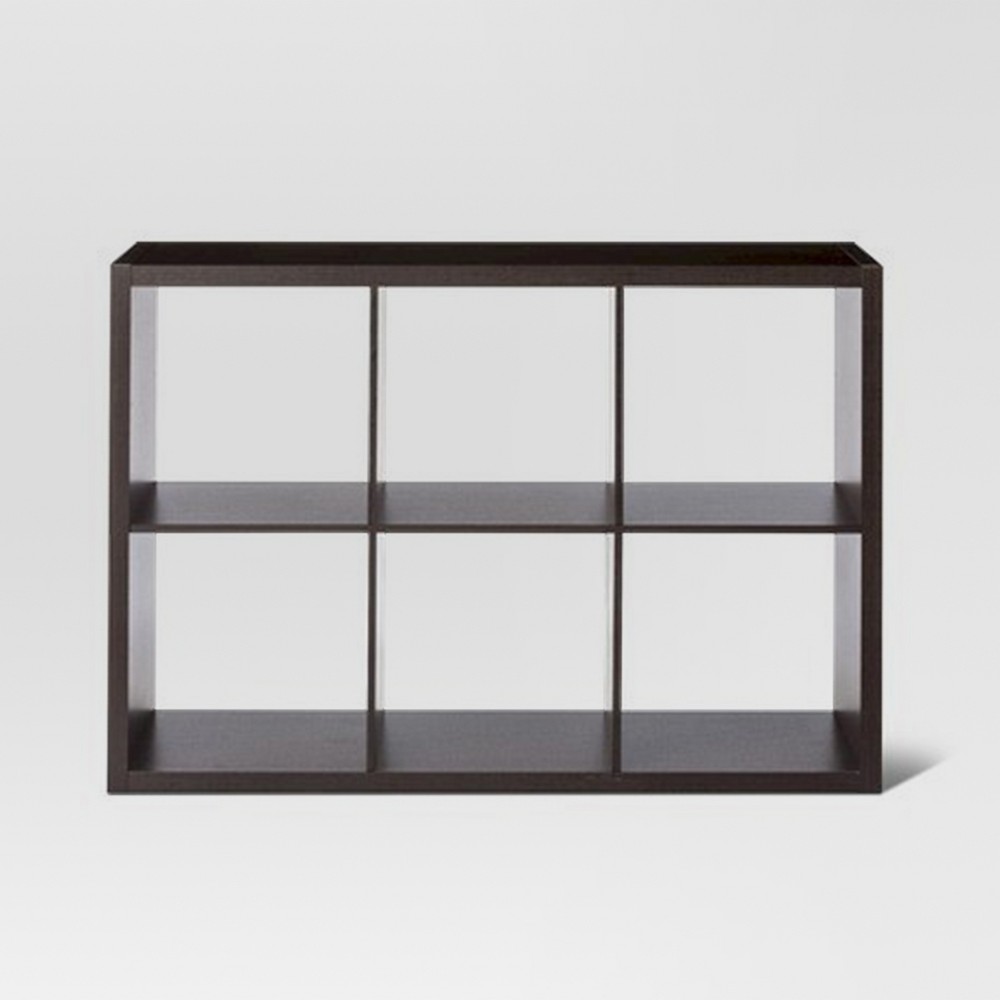 Frozen toddler room ideas for a special play space

In her nursery, our little one was constantly hiding behind her rocking chair and pulling all her toys into the corner. I wanted to recreate a fun space for her to play and considered a few options.

We ended up going with the hanging canopy and mat, but also thought about doing a Teepee or a makeshift hidden tent. 

Here are two of the inspirational pins I was looking at when thinking about the space. The Teepee is pretty self-explanatory. The hidden tent isn't, but it's super cool. You take a curved shower rod and put it in a corner, with curtains hanging down on the sides. Your little one then has a completely private play space, but you can also tie back the curtains if you want to open it up. 

Here's another super cute option for a corner Teepee hideaway.
Both options seemed awesome, but we ultimately decided on the canopy and so far she seems to really like it. 

We got the pillows at Target and Homegoods and the Canopy and accessories from Amazon. Links to pillows below: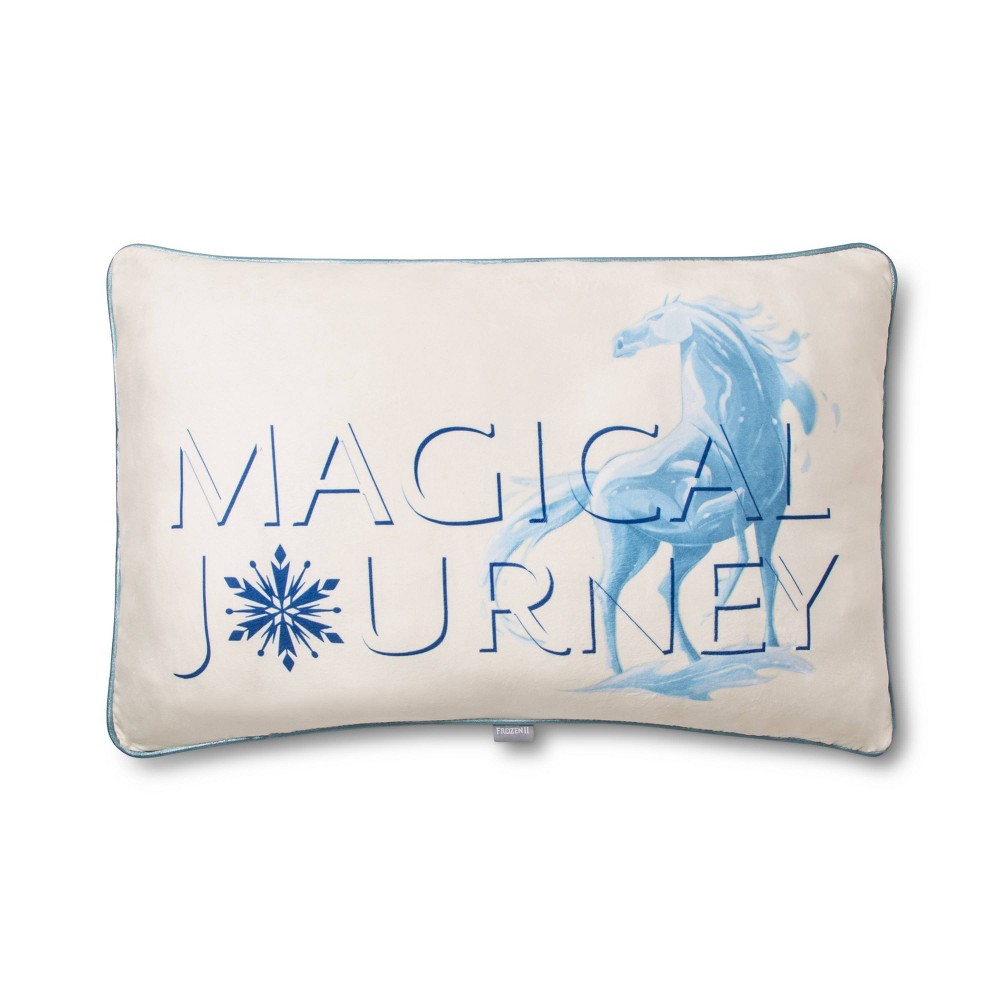 Frozen II Toddler Bedding

We got all the bedding at Target over the Black Friday / Cyber Monday weekend. The sale was actually better the week later so that taught me again to watch the price and not be sucked in by big dates. I still felt good that we were able to snag a deal. 

She has the Frozen II comforter and sheet set for a queen-size bed. We decided to re-purpose our guest bedroom bed to save money. We also got the sherpa blanket for her reading nook or just to cuddle with on the bed. There are a ton more options for Frozen or Frozen II themes if you're looking for a toddler bed or twin size bed. Since we had a queen already, this is where we ended up. 
Frozen II Fearless Journey Sheet Set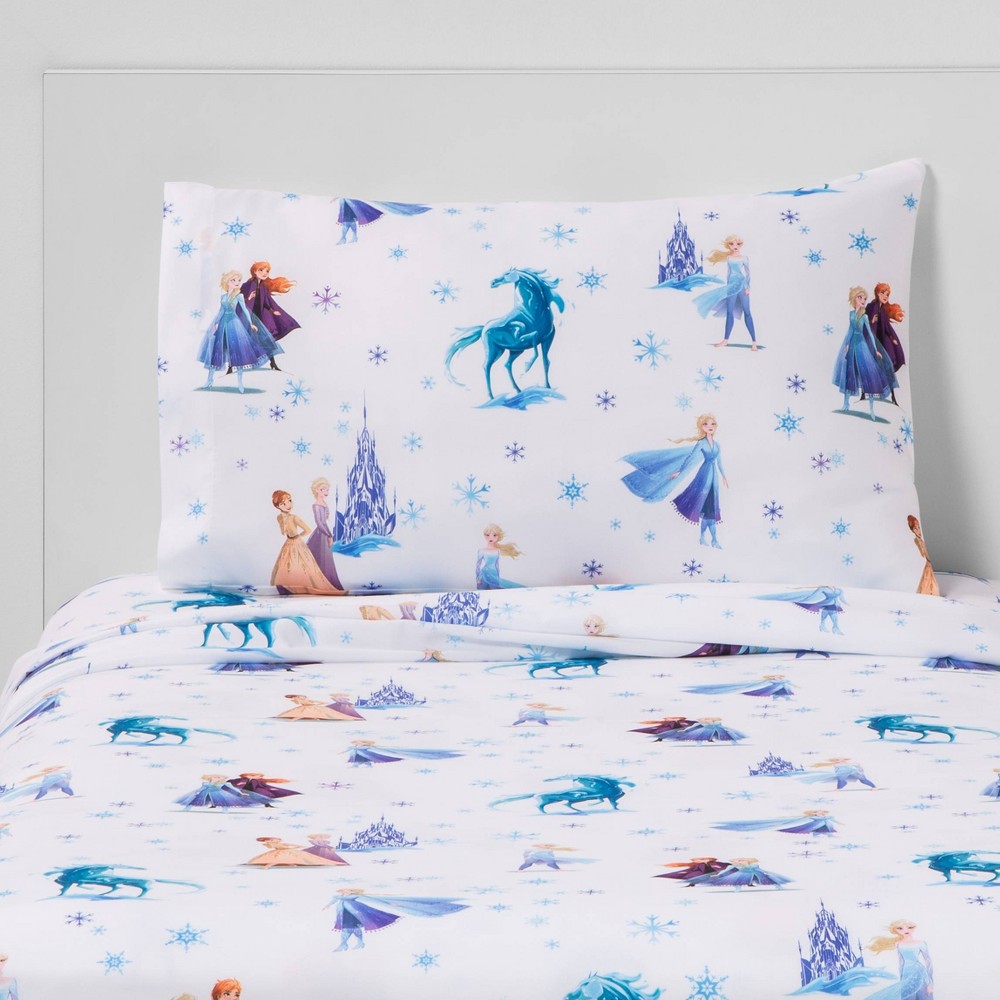 Frozen II Fearless Journey 3 – Piece Quilt Set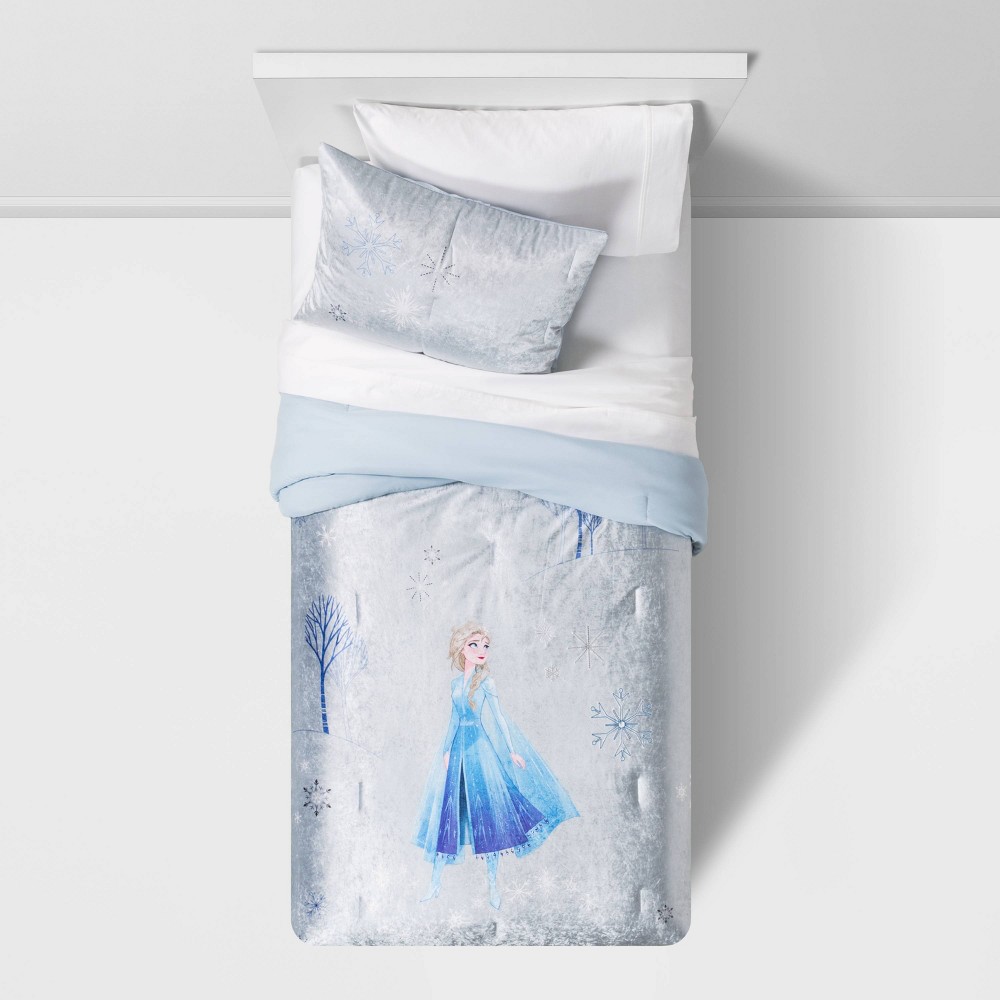 We also got the Frozen II Sherpa Throw Blanket for her bed or play space, pictured below. She absolutely loves how soft it is!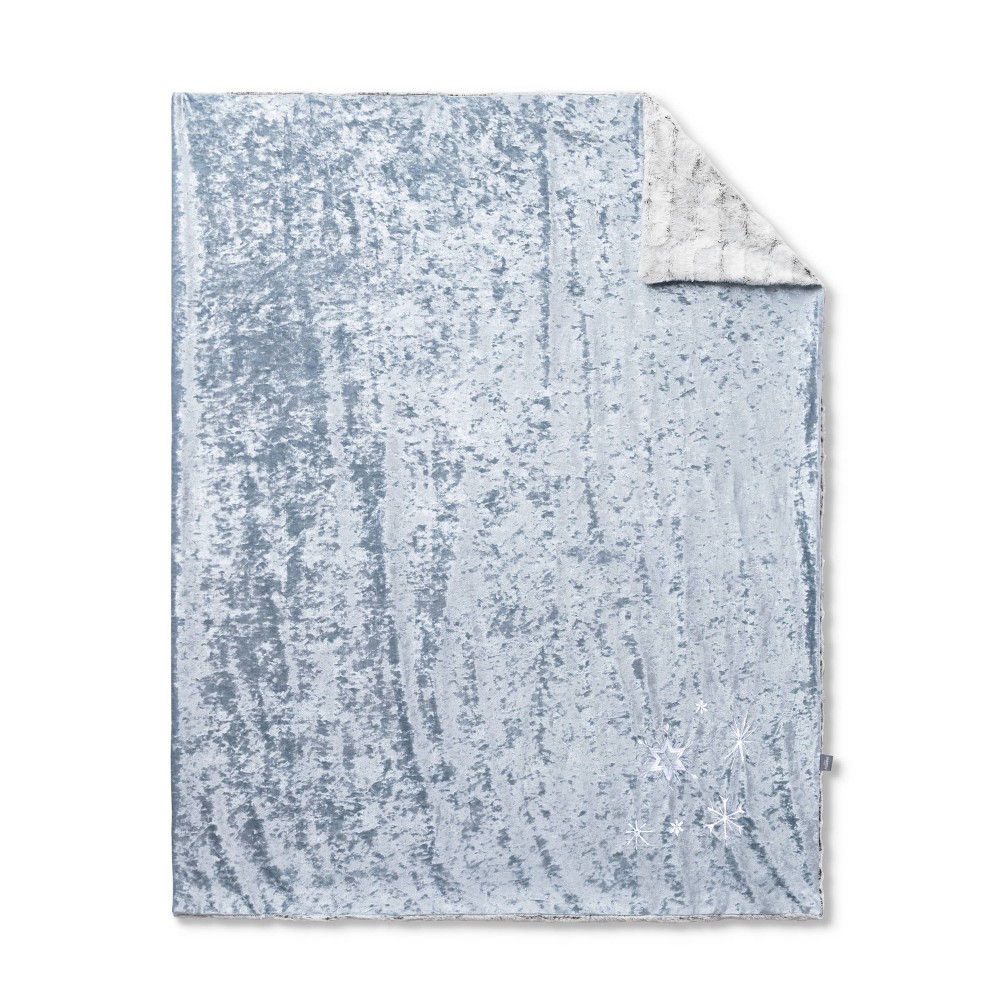 Wall art for Frozen II-themed toddler room 

Our friend inspired us to do the decal wall art, and we found two huge Frozen decals online. They were really reasonable and since they peel off without damaging the walls it was a great way to bring the theme to life.

Luckily, I also happened to find a picture of Elsa at Home Goods. Since we had a small wall to fill we just picked that up for $15. Similar wall art here.

Here are is a very similar decal from Amazon for your little one's wall:
If you're looking to stay updated on all things mom life, or want access to our free resource library feel free to drop your email below. I'm continually updating with additional ideas, printables, and spreadsheets.
Additional Toddler Bedroom Upgrades

I know, I know, "upgrading" a toddler girl's bedroom may be silly. There are still a few things I'd like to do but didn't have the energy to really plan out in my third trimester. I'd love to do some shelving above her storage unit, like the pin below.

I know at some point she'll probably want a TV in her room. Since we're not allowing that for awhile, I want to do something on the wall so it isn't so bare. 

In the space where the decal is above her dresser I'm planning on one day putting a big mirror. I always thought a nice mirror above a dresser really dresses up a room. Again, that's something we can do in the future when she's older. 

If you're looking for some toddler bedroom inspiration I hope you found this helpful. Our little lady has been really pleased with her new digs. She hasn't even minded that she'll have to relinquish the nursery to a baby. 
If you have any more ideas to dress up the space, I'd love to hear them. Leave me a comment below!

Don't forget to pin this article for later. Sharing is caring!