The 15 best puzzles for toddlers in 2020
I don't think we started our daughter on puzzles early enough. She got REALLY into them when she was close to four years old. While we had a couple around the house, we didn't really use them until she was three. Once we saw what awesome learning activities these were, I set out in search of the best puzzles for toddlers and preschoolers to stock our shelves.

Our little lady is a true homebody. She doesn't like running errands and would 100% rather stay home and do crafts and activities than leave the house. Since we were looking down the barrel of winter and expecting a new baby I wanted to get as many new fun indoor activities together as I could.

This post probably contains affiliate links. That means if you buy something using one of my links I may receive a small commission – at no additional cost to you! How cool is that? It's kind of boring, but feel free to read my full disclosure if you want more info.

After scouring the internet, here are the best puzzles for toddlers that I could find. I broke them down by age, so although there will be overlap you'll be able to find out which puzzles are better for two-year-olds versus four-year olds. This is my best guess, so take a look since you know your kiddos better than I do 🙂

Best toddler puzzles for two-year-olds

Puzzles are great learning activities and can also help with motor skills for your younger toddlers. When shopping for the best puzzles for two-year-olds, look for bigger and more thick puzzle pieces. Unsurprisingly, the younger set can be rougher on these and may still be putting the pieces in their mouth.

Additionally, the skill and ability to complete puzzles is much different at two years old than four, so if you get one that is too advanced, just save it for later!

This wooden three pack of puzzles is great because it includes a way to learn numbers, letters, AND colors. The peg puzzles are fantastic for the younger set, and although the Amazon description says ages 3-5, I know for sure that my daughter would be bored stiff with these and she's three and a half.

However, I'd love to have picked up this three-pack of puzzles when she was 18 months and we started colors, then we could have graduated into the numbers and letters.

These would be fun starting even earlier than two, and are also a great way to begin teaching animals. The great thing about these Melissa & Doug puzzles is that the peg construction is so durable. They will last much longer than some of the flimsier cardboard puzzles you can give to a three-year-old.

For all the Minnie Mouse lovers out there, this is a great option!

This might be one that your two-year-old grows into, but the four puzzle box set of vehicles is fun for all toddlers. Since there are only 12 pieces I think you could safely start these at two, but this is a more challenging option than the peg puzzles.

This is an awesome way to start to begin matching with your toddler. The pieces also look thick enough to stand up to even rough two year old handling!
Best toddler puzzles for three-year-olds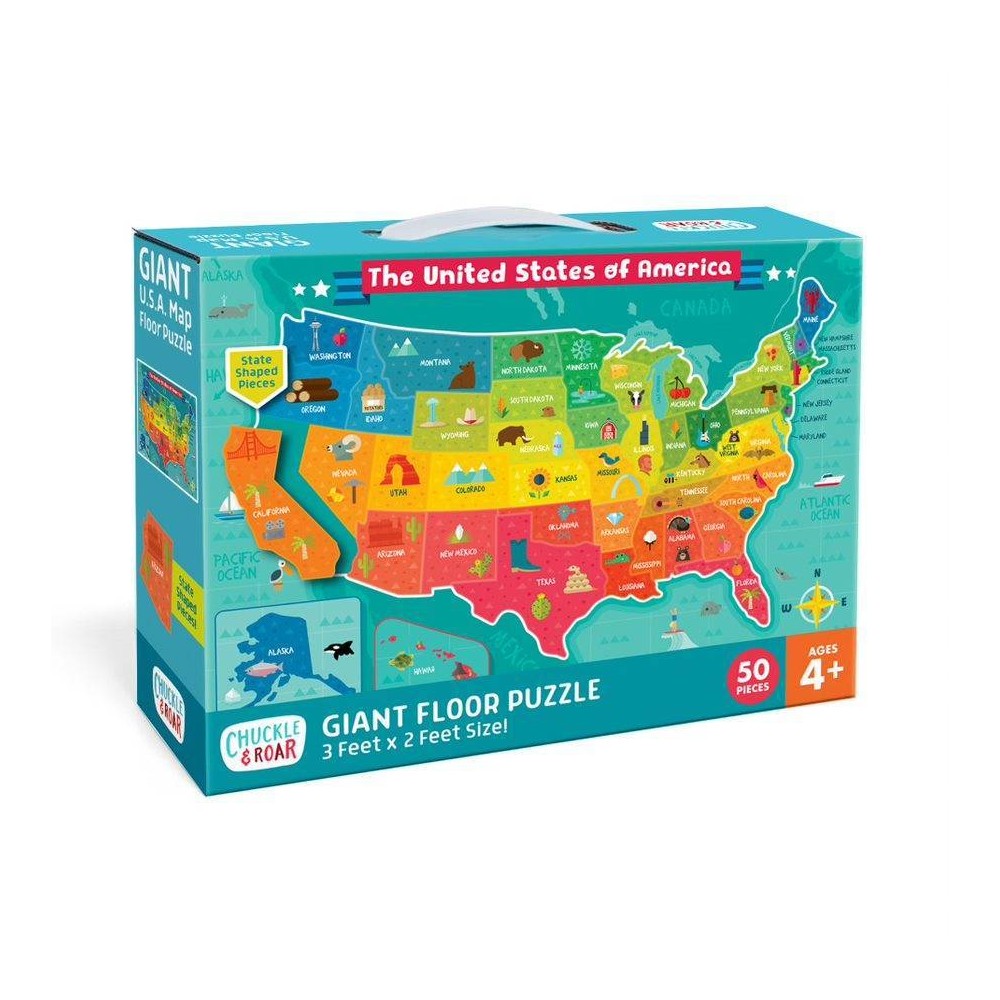 We were 100% amazed when our daughter put this together by herself. We'd done it together less than 10 times and one day we walked back in from making breakfast and it was done. I thought it would be something we'd have to work on together for awhile, but it goes to show kids are smarter than you think.

The United States puzzle was also really fun for showing our daughter where different family members lived, and helped her remember where we were going when traveling.

She loves putting together puzzles when she knows the characters, so feel free to take Finding Dory above and sub Minnie or Mickey Mouse or any other favorite princess. Your three year old will love the learning activity of puzzles even more if she knows the character she's putting together.
With the resurgence of the Frozen craze I'm not sure what toddler won't love this one. Large size and big pieces make the 46 piece puzzle achievable for a three-year-old. A harder puzzle will occupy your toddler for longer than some of the simpler options.

Another universally loved character in a larger puzzle option. Win-Win in our book.
Stay in touch for more great product recommendations and free resources. Drop your email below for immediate access to the resource library!
Best toddler puzzles for four-year-olds

I chose puzzles with more pieces in the four year old set since some of the smaller puzzles become boring with time. While our three-year-old still likes some of the puzzles that are 24 pieces or less, she can complete them in less than five minutes.

Branching out and pushing the limits with size and piece count can be fun, but ensure you aren't giving your child something that is only frustrating. If the puzzle is too hard, put it in the closet and pull it back out in a couple of months.
I hope this list of the best puzzles for toddlers provides you with a great learning activity for those days indoors. Look forward to endless hours of entertainment while you're stuck inside!

If you found this post helpful, please pin it to share with someone else!